This is for new NAK Tac players that want to install the mods and get them set up quickly.
The files im about to link, are two html presets, that once loaded into the launcher, will automatically create a preset with all of the mods loaded as well as automatically download the mods that you are missing.
NAK Tac Basic Mods
Importing these presets is really simple, here are some simple steps to how to:
1. Download the desired preset
2.Open up your Arma 3 Launcher
3.Go into the "Mods" tab, and click on the arrow at the presets list on the top right
4.Simply press the "Import" button at the very bottom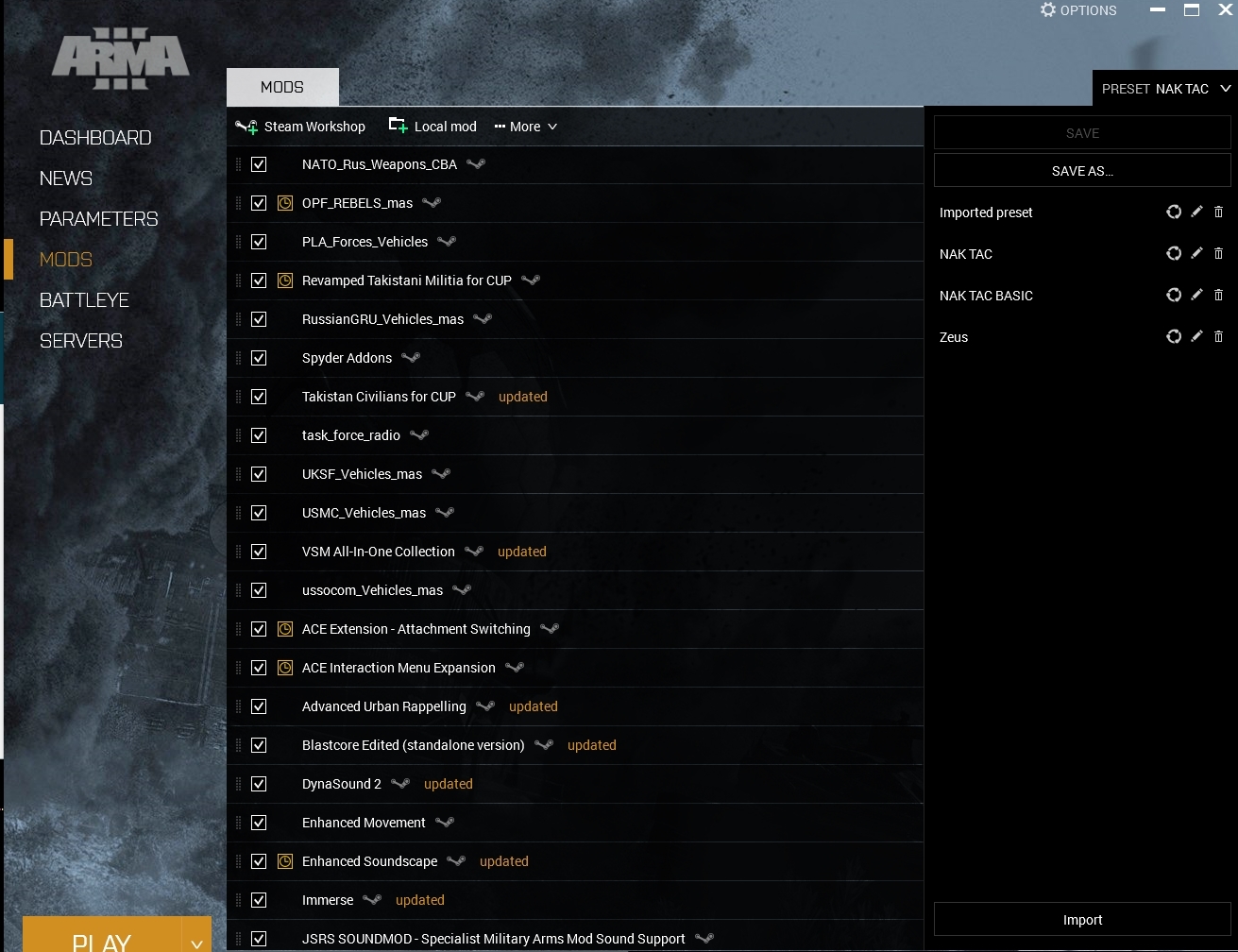 (if you have no other presets made, none should show up, such as my other presets that appear)
5.File browser will pop up, simply look for the HTML file preset you downloaded, and select "Open"
6.You should be good to go! Mods should automatically start downloading and a new preset should be created, simply press "Save" to save it.
Additionally, NAK Tac also has a list of additional mods that can be loaded and be played with, you can add any of the mods you want to from the NAK Tac Additional mods collection found here:
https://steamcommunity.com/sharedfiles/ ... 1308055612
Any of these mods are allowed and can be loaded alongside with the Basic mods. I will pass on an additional preset with all of the Basic mods and three additional mods that we recommend to everyone: ShackTac Interface, Enhanced Movement and Advanced Urban Rappeling
NAK Tac Basic + Recommended Mods
If you wish to add any other mod from the additional collection, you just need to download them from the
Additional NAK Tac Mods collection
and manually load them into your preset
NOTE: No other mods than the ones included in the NAK Basic and Optional collection are allowed into the NAK Tac/Zeus server, If you try to join with any other, you will get a script restriction.
If anyone needs further help, leave a comment or contact an admin.
Have fun! ~ xBroleh